BIOGRAPHY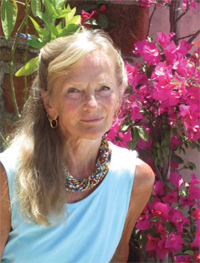 Bonnie Lee Black earned an MFA in Creative Writing from Antioch University – Los Angeles in June 2007. An honors graduate of Columbia University, New York (BA, Lit./Writing, 1979),
she has been a professional writer and editor for more than 30 years and an educator in the U.S. and overseas for over 20 years.

In addition to the memoir How to Make an African Quilt (Nighthawk Press, 2013), which is the sequel to her 2010 memoir, How to Cook a Crocodile (Peace Corps Writers), Bonnie is also the author of Somewhere Child (Viking Press, NY, 1981), which was instrumental in the creation of the National Center for Missing and Exploited Children and is still featured on the reading lists of organizations designed to help parents of abducted children.



For ten years (1986-96) she was a chef, caterer, and cooking instructor in Manhattan, during which time her freelance writing focused on food. In 1996, she joined the Peace Corps and served as a health and nutrition volunteer in Gabon, Central Africa. On her own, she subsequently (1998-2001) created an economic development project in Mali, West Africa, teaching Malian seamstresses how to make patchwork quilts. That experience became a many-layered, quilt-like book: How to Make an African Quilt: The Story of the Patchwork Project of Ségou, Mali.

Bonnie's essays have appeared in a number of published anthologies and literary journals, including Alimentum, Persimmon Tree, Under the Sun, Chokecherries, and Storied Recipes. From 2001 to 2015 she lived in northern New Mexico and taught at UNM-Taos, where she was named "Most Inspirational Instructor" in 2010. In 2012 she was honored to be named one of the "Remarkable Women of Taos," and she is also featured in the book, Remarkable Women of Taos (Nighthawk Press, July 2013). From June 2014 to June 2016 Bonnie was a regular food columnist for the weekly Taos News.
In December 2015, at the age of 70, Bonnie retired to sunny and beautiful San Miguel de Allende, Mexico, where she continues to share her thoughts and experiences in her WOW Factor blog.